Dr Paula Barrett has published numerous research articles on the prevention and treatment of anxiety and depression, and the promotion of resilience through the evidence-based Friends Resilience curricula.
Dr Barrett received the Highly Commended Certificate in the Human Rights Medal of the Australian Human Rights Commission, for her contribution to the wellbeing of children, youth and the wider community. She has been recognised as being amongst the top 1 percent of publishers within the field of Psychology and Psychiatry, at an international level.
Dr Barrett was awarded a Fulbright Scholarship at the end of her high school studies, and a Commonwealth Scholarship in 1991 to complete her research Ph.D.
Throughout her career, Dr Barrett was awarded the National Australian Association for Cognitive and Behaviour Therapy Early Career Award for her research and innovation in the field of Clinical Psychology, the National Australian Psychology Society Award for outstanding scholarship in the discipline of Psychology.
Dr Barrett also received the 'Lord Mayor's Australia Day Achievement Award' for far-reaching services in the community for families and children. She was a finalist for the Australian of the Year Award. Further, she was honoured the Telstra Australian Innovation Award for her ground-breaking, innovative, community FRIENDS Resilience curricula.
Dr Barrett has been listed in the Women's Museum of Australia, for her outstanding work helping children, families and communities, develop evidence-based Resilience skills.
Dr Barrett is a member of the Centre for Excellence in Mental Health at the Australian National University.
The Friends Resilience Organisation was founded in 2000. Friends Resilience is responsible for Worldwide Training in the Friends Resilience Programs. Training is delivered in an interactive format online, and the FRIENDS eBooks are also distributed through our website. (www.friendsresilience.org)
For over three decades, Paula has authored and evaluated the well-known FRIENDS for Life program recognised in an evidence-based review conducted by the World Health Organisation for the prevention and treatment of childhood and adolescent anxiety and depression.
The FRIENDS program has achieved worldwide success within Ireland, Denmark, Wales, Canada, New Zealand, the United Kingdom, the Netherlands, Finland, Norway, Sweden, Hong Kong, China, the US, Portugal, Greece, Cyprus, Mexico, Peru, Brazil, Lebanon, Syria, Japan, Korea, Taiwan, Singapore and Malaysia, and is also undergoing randomized controlled trials in many other countries.
In 2007, Paula's Fun Friends program was officially launched by the Queensland Premier to promote resilience in preschool aged children. Paula has also published FOCUS, a recognised treatment for OCD that has been proven effective after 7 years follow up.
Dr Barrett is an acclaimed and engaging speaker in both international and national forums, having delivered numerous seminars worldwide. Collectively her prolific writing, generosity of spirit and passion for research, have had a significant, positive impact on the lives of literally thousands of families all over the world.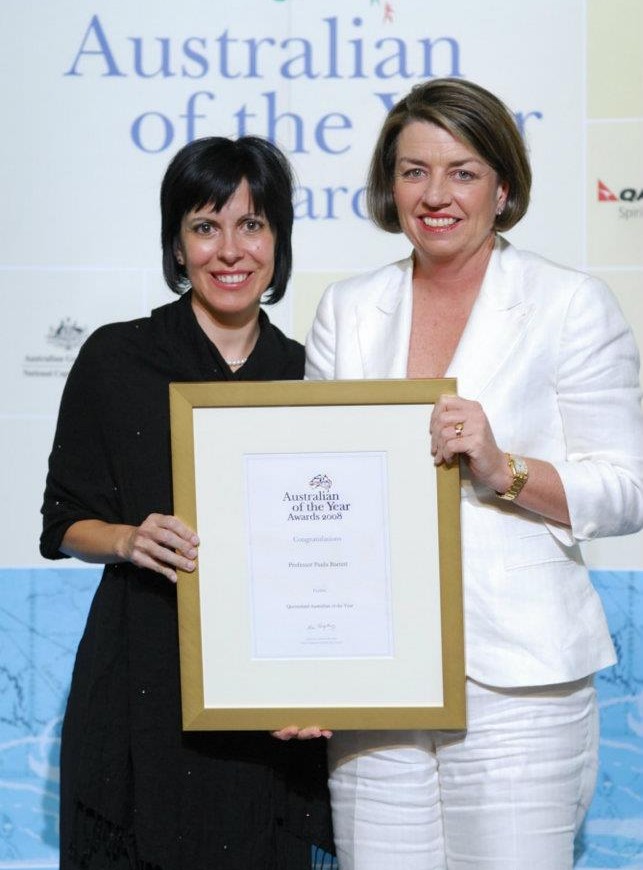 More links about Dr. Paula Barrett: